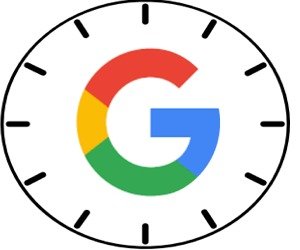 Did you know that if you don't update your web content, you may be penalized by Google's new algorithm, RankBrain?
Let's examine how this can happen and what you can do to prevent it!
Have you ever modified your Google search to only show web content created in the past year, past month, or past week?
Of course you have, and I have, and many others do as well.
I do it because I research many technical issues.  And often, an article written in 2015 does not serve my purposes in 2018.
But this is not just about technology searches.  It's about nearly every search.  Searchers want the latest information!  We want now!
As online marketers, we need to take advantage of a "searchers need for now" to bring more organic traffic.
And that is what I am going to show you in one quick illustration below:  How to "time-manage" the SERPs by making sure that your content shows the most recent update date.
This is not about manipulating the SERPs.
It's about understanding how Google's new algorithm, RankBrain, can adversely affect your Google search results position.
Most importantly, it's about genuinely obtaining the most organic traffic from your quality web content.
Learning this easy technique will get your content far more exposure and increase your organic traffic.
Are you ready for the quick illustration?
The Before:  Google Showing Old Web Content
I wrote an article back in 2016 about quotes in meta tags.  It's a comprehensive article about whether it is permissible to use quotes in the meta tag description.  The article has done very well in the SERPs because of its detail and examples.
And so, as you see below, it currently has the #1 position in Google for its keywords.
But there are two negative things that can happen even though I have the #1 result.
The Google RankBrain Algorithm and How It Affects Older Content
First, people may see the date of "2016" and think, "Nope, this is not a recent example.  I need something from 2018."
If searchers think this way and don't click my content, I will be gradually devalued in the eyes of Google's new search engine expert Rankbrain (for more details on this, check out Brian Dean's excellent RankBrain article.)
Basically, RankBrain realizes that I have a low CTR (click-thru-rate) and devalues my content by pushing it lower in the SERPs.
Secondly, people may change their search to only show only content from the last year (which I often do).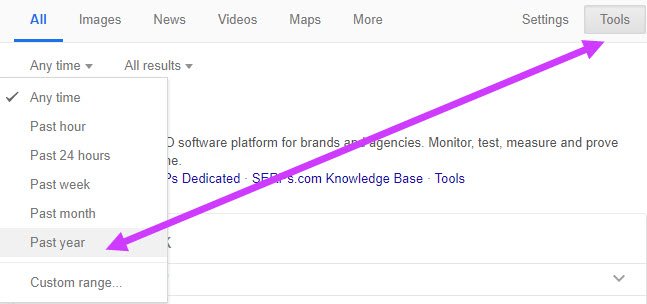 So, what will Google searchers see if they change their search to be within the past year only?
Not the article I have labored to create!
Here is the same search as above with the results modified to show only the previous year:
What do we not see?  My content!
Yes, I rank #1 in Google for this search term.  But, as I said, I am harmed in two ways:  (1) People won't click my article because of the 2016 date time stamp, which was the original publish date.  This lack of clicking will lead to a an eventual decline in organic rankings because of Rankbrain.  And (2), my web content does not show up for people who change their search to only show last year.
Those two things are not good.  But, we can remedy both of them.  How?  Read on…
The After:  Making Old Web Content New Again
You have probably heard the value of bringing old blog posts back to life.  Here are 5 strategies that work from Neil Patel.
Neil provides great techniques to analyze what old content that you should revisit and why.
However, in this case, we have already established the "whys".  This content ranks very well and, because of its timestamp in the Google search results and the new RankBrain algorithm, this great ranking is liable to suffer.
What am I going to do?  I am going to update the content, making it fresh with new content, graphics, and links.
Some people have asked me:  "Can't I just update the content date and be done with it?"  My answer:  That's cheating and some future Google algorithm will uncover your subterfuge. 
Or, perhaps Google may already be penalizing for fake dates.  So, don't do it.
I recommend doing a full content edit of the post.
If you would like to do the same with your content, here are 3 more great articles to go with Neil's above:
Though this is not an article on how to refresh old blog content, those articles above provide great guidance.
I am here to show you how refreshing old content brings more organic traffic.  And, because you have given a true refresh to this content, your revised content will be Google RankBrain friendly.
But, there is one more thing that you need to do before your task is done.
Re-indexing Your Old Web Content
After you have given your content a thorough revision, visit your Google search console to get your content quickly re-indexed by Google.
To do this in the Google search console, visit the Fetch as Google tool and request that Google re-index your content as you see in the photo below:
Why do you need to take this step?
Well, the Google bots that are always out there doing their tedious dance may not ever realize that your old content is new again.
By doing a Fetch as Google, you're telling the Google-bot:  "Come back and take a look at this post again!"
And the best part?
This happens immediately.  Let's have a look.
I have now updated my older article and re-submitted to Google via the Google search console.
Let's take a look at what has happened in the SERPs after performing these steps.
First, here are the Google search results without any date constraints:
Second, here are the results after I switch to see the SERP results in the past year:
Conclusion:  Maintaining SERP Positions After Google RankBrain with Updated Web Content
When you have old web blog content that ranks well, that content is in jeopardy with the new RankBrain algorithm.
Why?
When people see an old publish date in the search results, they are less likely to click it.  And this has a Google RankBrain consequence.
If Google sees a low click-thru rate on an article, they will lower that contents SERP ranking, which will lower your overall organic traffic.
By updating your old blog content and making it fresh again, you receive a new date in the Google SERPs.

This will result in a higher Google SERP click-thru rate which will allow RankBrain to continue to value your web content.
So, what are you waiting for?  Get to it!

Director of SEO, Social Media, and Web Content Development
at
The SEO System
Richard Cummings has been practicing online marketing for many years and has setup and optimized hundreds of WordPress sites.He founded The SEO System to provide SEO, social media, and online marketing services and software to businesses.

Latest posts by Richard Cummings (see all)