Question:  I have been reading so much about how my website should be mobile-friendly.  But, as a small business owner, I have little time to attend to my website.  How can I quickly tell if my homepage and my entire site show up well on everyone's mobile phone?  It looks good on mine 🙂  Thanks, Barbara, Dallas, Texas
The Quick & Easy Mobile Friendly Website Test From Google
Barbara, great question and very timely!
Google has recently adopted mobile first indexing whereby all website results that Google returns will be judged on their mobility. 
Of course, while consistent website/webpage promotion combined with quality web content is the best way to gain organic placement, you will now need a perfectly mobile website.
If your website does not meet the mobile criteria, it will be severely penalized in the search engines.
Here are some of the latest updates regarding Google's Mobile first indexing.
Why did Google do this?
Because, according to this Mobile Search report, more than 58% of searches come from mobile devices and this number is growing exponentially.
So, to the question…
How can you test your website for mobile friendliness?
Fortunately, it's very easy.
Google has provided us with this mobile friendly test.
You simply add your URL on the page as you see below:

And then you see the results: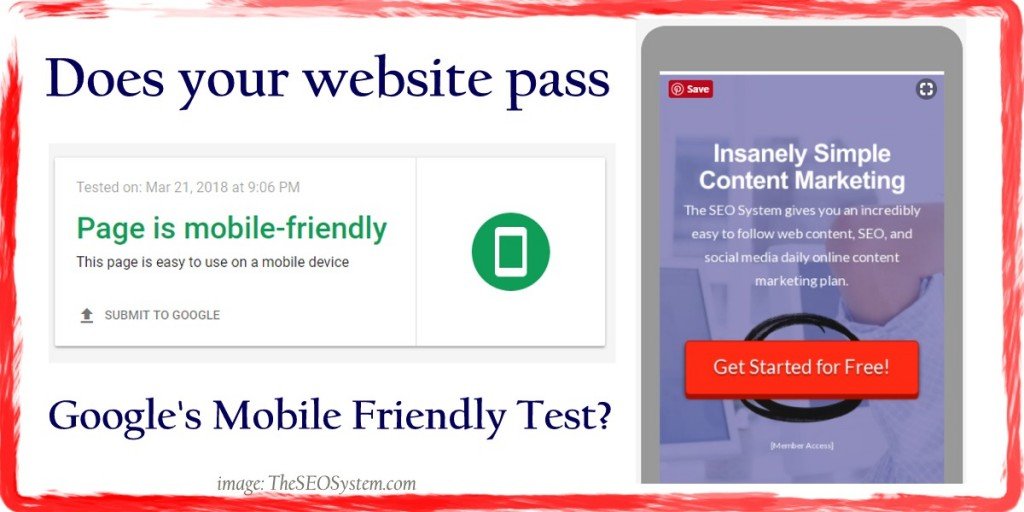 As you see, The SEO System passed the test.
Ideally, your page will also say "Page is mobile-friendly".
The Google Mobile friendly test will also tell you if there are issues that you need to address.
[We actually had some of these issues and are in the process of correcting them.]
So, Barbara, what should you do if your website did not pass the test?
I recommend starting out with Brian Dean's new comprehensive mobile SEO guide.
That's it for now.  If you have any more questions, feel free to send me a message.
Cheers,
Richard

Director of SEO, Social Media, and Web Content Development
at
The SEO System
Richard Cummings has been practicing online marketing for many years and has setup and optimized hundreds of WordPress sites.He founded The SEO System to provide SEO, social media, and online marketing services and software to businesses.

Latest posts by Richard Cummings (see all)