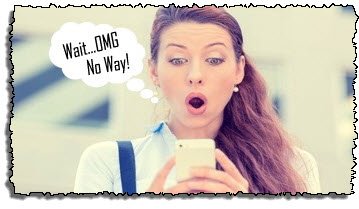 Statistics tell a story and the latest mobile marketing statistics tell this story:
You have to optimize everything you do online for mobile!
"Whatever, I'm gettin' by just fine without it. Can people just stop shouting about mobile this and mobile that?"".
Not until you listen — sometimes you just need cold hard facts to spur you to action.
So here are 9 startling mobile marketing statistics you must know (and act on!) in 2018, each introduced with a corresponding Tweet.

1. You Will Lose 61% of Mobile Visitors
@Google says 61% of users are unlikely to return to a mobile site they had trouble accessing [40% visit a competitor's site instead!]

— McKinsey Mktg&Sales (@McK_MktgSales) January 28, 2014
Like the sound of that? Of course not. Furthermore, as you see in the Tweet, 40% of these people will visit a competitor's website.
It's probably even happened to you. You visit someone's website on your phone and the experience is more miserable than a visit to the doctor's office. You leave. I leave. And, apparently, 40% of us end up at on a competitor's site.
Many companies, even some large ones with unlimited budgets, still have not prioritized mobile. Check out this list of Fortune 500 companies who have not yet mobilized.
In fact, just last month, I signed up for the Affordable Care Act and the provider I was considering, United Health Group, was not optimized for mobile as you see in the photo from my smartphone below.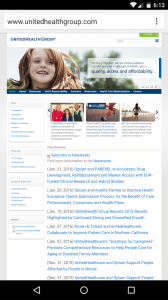 What did I do? I went to the competition.
2. 4 Out of Every 5 People Surf the Net On Their Phone
80% of use use our #smartphone to search the web! Are you on it? #GetSocial #Canada #digitalmarketing pic.twitter.com/C1esNXMNra

— illustr8ed (@illustr8ed_ca) January 18, 2016
In the previous statistic, we learned that greater than 60% of all mobile traffic will not return to your site if it does not look good on their smartphone.
Well, this is just a percentage, right? Perhaps not too many people are using mobile to surf the net? Wrong.
4 Out of Every 5 people surf the net on their phone! That's 80%. And how many people in the world have smartphones? 1.91 billion. 80% of that? Over 1.5 billion.
More importantly, according to this insightful "Mobile Path to Purchase" study, consumers spend 15+ hours per week doing research on their smartphones and nearly always visit a website on their mobile before making a purchase decision.
3. People Read Email On Mobile More Than Desktop
This just in: stats from December show mobile #email opens on the rise reaching 57% https://t.co/lO2ISNhFoI pic.twitter.com/CD2CfjAn9c

— Adestra (@Adestra) January 5, 2016
Yep, 57% of you are opening your emails on mobile as opposed to desktops. If that stat isn't compelling enough, read what Forbes has to say about the importance of a mobile-optimized newsletter.
Now, what does that tell you about how your emails should look on mobile?
"They should look spectacular," you respond. Then, why don't they? Have a look at How to Optimize Your Emails for Mobile and get crackin' on creating perfectly mobilized emails every time.
4. Mobile Searches Result in Action…Within an Hour!
In 2013 it was found 70% of mobile searches lead to action on websites within one hour. https://t.co/iZQS3742gy via @iacquire

— Internet Presence (@islandip) January 15, 2016
In online marketing, conversion is a common buzzword and it means different things to different businesses. Generating a lead may be a conversion for a B2B while making a sale may be considered a conversion for an online retailer.
Whatever the case for your business, conversion is the holy grail. It means that a new customer has begun interacting with your business.
So how does a customer find you? They search on Google. But, as you see in the Tweet below, they won't find you if your website is not adapted for mobile.
Mobile-friendliness is officially a ranking signal for Google search. Is your website being seen in search results? https://t.co/pyaTLjxI4D

— Haley Marketing (@haleymarketing) January 23, 2016
On the other hand, if you have an awesome mobilicious website, searchers will find you and, if they like you, they will take action…within 1 hour.
Do you usually get new customers that quickly?
5. People Now Buy On Mobile — Big Time!
Average smartphone conversion rates are up 64% compared to the average desktop conversion rates. #DigitalMarketingFacts

— Apurva Chamaria (@a1purva) January 18, 2016
Some thinking against taking the time to optimize everything for mobile is that people aren't taking action on their smartphones – they're not buying!
So, if you can't make a sale, why bother? Well, setting aside the extreme value of nurturing your client, these new statistics point to the fact that mobile users are now converting into potential and paying customers.
Not convinced? Take a look at this startling statistic released by Amazon regarding holiday seasonal sales.
Amazon says almost 70 percent of its customers this holiday season shopped via a mobile device https://t.co/7cISKcAWFG #ecommerce #retail

— Competitoor (@Competitoor_) January 21, 2016
Clearly, as websites have gotten more friendly on smartphones, and as smartphones have become a principal source of information and convenience, users are now comfortable hitting the buy button on their smartphones. There is even some speculation that the phone may soon replace the wallet.
6. 82% of B2B Buyers Use Their Smartphones for Business Activities
Did you know 86% of B2B buyers access business-related content on mobile devices? https://t.co/Jrmqsc11NI via @Sidekick

— Natalie Dold (@natbdold) January 20, 2016
"My customers aren't on mobile!", you say. Really? Do they live in 1984? Are they on the first cell phone ever purchased?
Of course your customers are on mobile. What is that thing that they take out of their pocket to answer a phone call? Does it look like the photo to your right?
No, it doesn't. They are using a smartphone. Are you suggesting to me that they use their smartphone only for phone calls and no other business usage? That they are not part of the 82%?
Don't worry. If we revisit the list of Fortune 500 companies not equipped for mobile, we see the old-time thinkers there: Phillips 66? Valero Energy?
You can just see the old oil Texan thinking "shhhiiii, no reason I need to be on mobile."
And, there next to him is the young 29 year-old mogul who was considering a multi-million dollar purchase trying to read information on the Phillips 66 website that looks like this on mobile.
The young mogul went elsewhere.
7. Mobile Ad Spend Now Exceeds Desktop And Will Comprise 72% of Ad Spending by 2019
Mobile ad spend will equal desktop this year. By 2019, mobile advertising will represent 72% of US digital ad spend http://t.co/rApOQKhalV

— SocialWhirled (@SocialWhirled) April 2, 2015
Let me tell you a little secret. I don't object that people are failing miserably on mobile because it makes my job so easy.
I just met with a client who said that their Facebook advertising wasn't working. Well, this one scenario has become so routine I feel guilty for accepting the assignment.
What is wrong in so many companies? Apparently, they are unaware or don't place significance on the fact that more than half a billion people access Facebook solely from mobile and that "Facebook has 1.19 billion monthly active users on mobile".
So, what do I do? The first thing that I do is look at the percentage of clicks from mobile (which often exceed 50%), and I then look to see if their ads are optimized for mobile. Finally, I check out their landing page on mobile.
Boom — there's the problem!
You not only need to make your Facebook ads look great on mobile…you need to make your landing page look great on mobile.
If the offer – the CTA – is not immediately visible on a smartphone, the user is going elsewhere…and, as we've seen, that elsewhere is likely the competition.
Mobile advertising currently represents 50% of all ad spending. If you're not down with mobile advertising, you're losing clients fast!
8. Half of All Mobile Traffic is Video
"Online video viewing accounts for 50% of all mobile traffic" & other mind-blowing stats about digital video: https://t.co/J89hZ3JxDe

— CMO.com (@CMO_com) January 16, 2016
Did I get you there? Even those with a mobile strategy often have not incorporated video as part of that mobile strategy.
But that is one mind-blowing statistic: Online video viewing accounts for 50% of all mobile traffic. Additionally, "Sixty-five percent of video viewers watch more than three-quarters of a video."
Think about that: There are currently more than 1.91 billion smartphones in use and these 1.91 billion people, on average, are watching videos half the time.
Ok, granted, Netflix may consume a large portion of this but still. 50%? That's huge!
Does your company have an online video marketing plan to appeal to today's smartphone user? if not, it may be time to get your feet wet!
9. Engaging Your "Constantly Mobile" Future Customers
Mobile Popularity: A Constant For Millennials #Mobilestats https://t.co/MKG2CIa8Tq https://t.co/Oeh0VV64aP

— Blue Calypso (@BlueCalypso) December 13, 2015
What if you could find a place where your customers are nearly all the time, "almost constantly"?
Well, as we see in the Tweet above, more than one-fifth of U.S. consumers go online "almost constantly".
I know. You've seen them. They almost hit you on the highway when they were busy reading a text. But, that's where they are. In their virtual world while they should be focusing on the road.
And they are the future.
So, unless you do not plan on being in business for long, it may be time you adapt to their ways…cause they ain't gonna adapt to yours!
Comments: Where does your company stand on the mobile front? Are you fully optimized (website, CTA's, email, advertising) for mobile? Sound off in the comments section below. I respond to all comments that come in. Cheers, Richard

Director of SEO, Social Media, and Web Content Development
at
The SEO System
Richard Cummings has been practicing online marketing for many years and has setup and optimized hundreds of WordPress sites.He founded The SEO System to provide SEO, social media, and online marketing services and software to businesses.

Latest posts by Richard Cummings (see all)