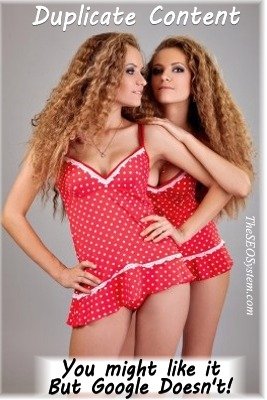 Most of you know that duplicate content on your site is a "no-no" in the eyes of Google. In all likelihood, the big G will penalize you for duplicate content. However, if you implement a guest posting solution, you are not always sure that the source content is original. So, we will tell you how to check for duplicate content before you publish guest posts and other content that you are unsure is original.
Duplicate Content Checkers: An Overview
As web content authors realized that shady sites were stealing their content, a whole market sprang up that enabled these content creators to check the Internet for duplicate content…to find out if other sites were stealing their articles. With most of these solutions, you place your URL in a search box and the program will find duplicates of that article. One of the leaders in duplicate content checker software is a company called Copyscape. As you see in the box below, you simply place your URL in the box and Copyscape will find sites that have copied your original material.
Want to see how Copyscape works? I did a quick test with this article from ESPN and received numerous reports of plagiarism.
Duplicate Content Checkers: Pre vs Post Publication
The problem with many duplicate content checkers is that they check for duplicate content post-publication. The original author then has to track down all of the copiers and politely (or not!) ask them to remove their duplication of his/her article. Many of us who practice small business SEO simply do not have the time to track down all of these plagiarists. An easier way to establish that you are the source of your content is through Google Authorship.
As guest blogging has become all the rage, the need has developed for a duplicate content check before an article has been published. Obviously, if you write your own articles, you know that the content is original. However, with guest bloggers, you can never be too sure.
For example, at The SEO System, we allow guest posts on SEO, social media, and general web marketing topics. In fact, our SEO guest post page has gotten so popular that we desperately needed a pre-publication duplicate content checker. Despite the fact that we stress "all content must be original", you'd be surprised at how many people try to sneak in their duplicate content.
So, we needed a pre-publication duplicate content checker to thwart these mal-intentioned guest bloggers!
And we found one that works quite well: Plagium. With Plagium, you simply copy and paste the contents of an article into the box on their home page and it will tell you whether that content already exists on the Internet.
To illustrate an example, I will copy and paste the initial paragraph of our LinkedIn Business Tips article and you can see in the image below how Plagium detects it.
Duplicate Content Checkers: Conclusion
Now-a-days, especially with Google's tendencies to penalize sites with duplicate content, it is important to avoid having duplicate content on your website. There are tools that you can use to detect duplicate content both before and after publication. However, chasing down every Tom, Dick, and Harry that has already duplicated your content is time consuming and, perhaps, unnecessary. Instead, just ensure that you implement Google Authorship and you–the source of the material–will always get top billing.
If you allow guest posting on your blog, you will want a pre-publication duplicate checker. Like it or not, guest posters are not above claiming that content is original when, in fact, it is not. We recommend that you use plagium as a free pre-publication duplicate content checker to stop these cyber-annoyances in their tracks!

Director of SEO, Social Media, and Web Content Development
at
The SEO System
Richard Cummings has been practicing online marketing for many years and has setup and optimized hundreds of WordPress sites.He founded The SEO System to provide SEO, social media, and online marketing services and software to businesses.

Latest posts by Richard Cummings (see all)