Insanely Simple Online Marketing
The SEO System gives you an incredibly easy to follow web content, SEO, and social media daily online marketing plan.

---
SEO, Social Media, & Online Marketing Software for Your Business!
The SEO System: Success Earned Online
The SEO System is SEO, social media, and online marketing software for businesses. No expertise required. We tell you exactly what to do each day to achieve success online.
Free Trial!
You can't succeed online without a great plan!
Successful small business owners know that their online presence leaves an impression. The first place 98% of your clients go to find out about your company is online search engines and social media! Will they be able to find you by your company name and all the applicable "internet searches"?
---
ONE OF KIND, CUSTOMIZED CLOUD SOFTWARE
The SEO System is a unique product designed for small and large businesses who want to do their own SEO, social media, and online marketing in-house. It saves you money and provides a comprehensive online marketing solution that will measurably increase your online success. You no longer need to hire consultants or specialists who charge exorbitant fees. The SEO System is your expert. And best of all, it's cloud-based online software which means that you do not need to install any software and can begin right away.
10 Reasons You Need to Start Today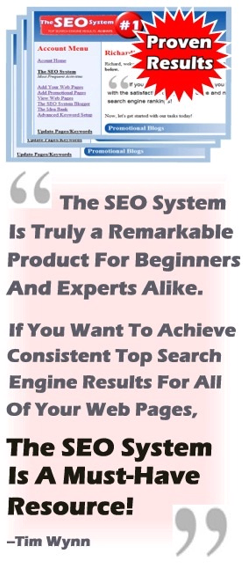 ---
What Our Customers Are Saying!
SEO Experts do not want you to know about The SEO System. Why not? Well, it has taken the SEO profession and automated it. SEO, social media, and online marketing experts charge thousands of dollars each month and are not near as consistent as The SEO System, which costs a fraction of the price. The secret is out now and you need to become a part of it while phase II pricing is in effect.
---
Completely Free 2 Week Trial!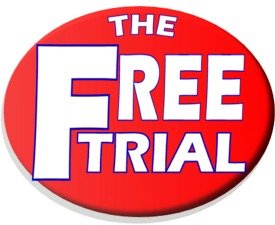 H
ow confident are we that The SEO System will work for you?
We know that The SEO System is the best
SEO software for small businesses
to succeed online. We know it will work for you.
But you don't know that yet. So, we would like to offer you a completely free trial of our SEO and Social Media software for one month.
Remember, effective SEO and social media is like exercise–it takes time to achieve results. There is no magic bullet. You will see that The SEO System provides you with simple and exact social media and SEO actions items that you need to perform each day for long term success.
From the Blog: We Keep Up So You Don't Have To
Simplicity. Design. Results.
A Note From The SEO System
Date: Wednesday, February 10th, 2016
From: Richard Cummings
Dear Friend,
I am writing to you today to tell you about my product, The SEO System™. I am very proud to present you with this product which has been in the making for several years now. I have designed The SEO System for individuals and businesses who want to dramatically increase visitors to their web pages and, in doing so, generate significantly higher profits.
But first, let me tell you what The SEO System is not. The SEO System is not a "press a button make a million dollars" type of solution. Presumably, you know by now that these types of solutions just don't work. If they did, I would choose those every time. Wouldn't you?
The bottom line is this: To get your web pages to the top of the search engines, you cannot simple press a button and make it happen. You need a system!
You need a system that tells you, each and every day, exactly what to do to get your web pages to the top of the search engines.
You need The SEO System.
And, remember, you can try it for free for 60 days!
---