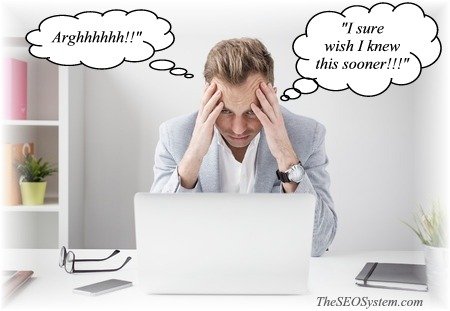 In this article, I will tell you the most basic SEO lesson that often eludes small businesses who are trying to achieve organic search results.
Small business owners are faced with a great challenge when it comes to SEO. They want to achieve great organic search results but they don't have the time, the staff, or the money to hire an SEO company. In fact, one of the reasons that I developed The SEO System was to deliver an affordable online marketing solution for small businesses.

Often, those who are in charge of small business do not have any time to learn SEO and they overlook the most basic concept of SEO: keyword optimization.
Let me give you an example that I came across just this weekend.
Related: Want a daily online marketing plan for your small business? Get Started for Free.
SEO For Small Business Example
I have been spending time trying to learn Spanish as one of the items on my personal "bucket-list" is to learn a new language. To further my goal, I traveled to Buenos Aires, Argentina to get some first hand experience learning Spanish. I read some blogs about activities in Buenoes Aires and one activity that I came across was a program called Spanglish Exchange.
Spanglish is a great program which brings local Argentines together with English speakers in lively, fun pub environments to practice English and Spanish together. It's a great time and makes learning Spanish much more inviting than attending formal classes or studying textbooks.
I became very good friends with the owner of Spanglish, who is trying to expand her audience via the Internet and natural search engine results. Knowing that I am deeply involved in SEO, she asked me how to increase her natural search engine results.
I said, "Well, tell me how things are going at the moment. What have you done to increase your search ranking?"
She responded, "That's just it. I don't understand. We are #1 on the Google results for Spanglish Exchange, but that is not bringing us many customers."
Do you understand what the problem is? It is the most basic SEO Lesson that small business owners don't understand.
Nobody searches for a business name unless they already know about you! For those who do not know about your business, you need to optimize your site for what you do, not who you are.
You need to optimize your website for what you do, not who you are. #smallbusiness #seo
Click To Tweet
So, what should the owners of Spanglish Exchange do?
First, they should identify the search terms for which their business provides a solution. For example, they might want to optimize for "Learn Spanish in Buenos Aires", "Learn Spanish Argentina", "Spanish Lessons in Buenos Aires", etc.
Second, they should ensure that these terms are used on their website home page, especially in very important places like the title and heading tags.
A good place to double-check your keyword usage is this keyword density analyzer. Here, you can ensure that you use your keywords sufficiently (btw 1-2% is fine) and that they appear in the "headlines".
Another site that I would recommend is this h1 and d2 headline tester. Visit this site and it will tell you whether your keywords (remember, for what you do not who you are) appear in critical heading tags. If not, update your homepage right away.
Here is an example of The SEO System home page results. We are a content marketing, SEO, & social media software company for small businesses and businesses who do their online marketing in-house so that is what we like to reflect in our headings tags.
And, thirdly, Spanglish Exchange should have a small portion of their inbound links use the terms about what they do. Thus, instead of people linking in to their site with the term(s) Spanglish or Spanglish Exchange, they need to have some inbound links in their portfolio use the actual search terms. Thus, since they are great friends and I love the Spanglish program, let's throw them a bone. If you want to learn Spanish in Buenos Aires, Spanglish Exchange is the way to go!
Of course, there is much more to small business SEO but this is the most basic SEO lesson for small business. Optimize for what you do not who you are!
Finally, if you would like an online content marketing, SEO, & social media solution for your small business, I welcome you to try The SEO System for free. Just pop on over to our homepage to get started.
---
Article Comments: So, do you have an optimized homepage with keywords about what you do? Will you be making a few modifications to include these keywords about what you do rather than your company name? Sound off in the comments section below. I respond to all comments that come in. Cheers, Richard
---

Director of SEO, Social Media, and Web Content Development
at
The SEO System
Richard Cummings has been practicing online marketing for many years and has setup and optimized hundreds of WordPress sites.He founded The SEO System to provide SEO, social media, and online marketing services and software to businesses.

Latest posts by Richard Cummings (see all)