If you answered "true", you are correct. Small businesses setup social media accounts and are then victims of their own great expectations.
The bottom line is this:
Social media won't work for your small business if you don't know how to work it!
Click To Tweet
I see it all the time.
"Richard, we setup a Facebook page and uploaded all of our content but we've seen no results."
Is this your small business? If so, let's go through 10 reasons that small businesses fail at social media. When you say — "That's me. I do that." — you'll know it's time to change your ways.
1. Set it and Forget it
This is the holy grail of social media crimes against humanity.
You're better off not having a social media account than having an empty one or one that has not been updated in the last months, much less years.
Let's see how long it takes to find a social media account that is a prime set it and forget it example.
Not very long. As I do a lot of online consulting in St. Louis, I chose a local search for "financial consultant st. louis". Near the bottom of the page, you will find a company called The Sher Group.
Visit their webpage for a moment and notice the Facebook, Twitter, and LinkedIn links on the top right.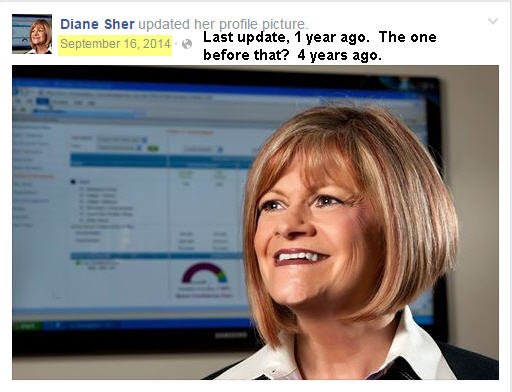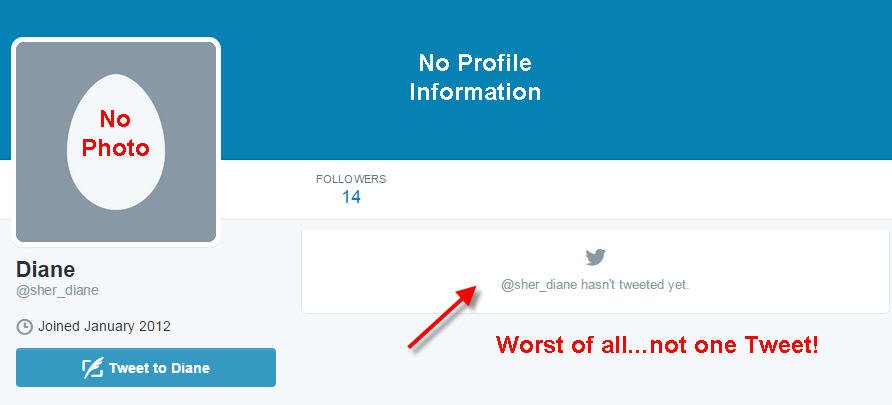 The Facebook account has not been updated in a year and the Twitter account has never had an update, not one. This is not meant in any way to criticize The Sher Group but, rather, to illustrate that most small businesses do not really know how to work social media and so it doesn't work for them.
So what should The Sher Group do? Delete their social media accounts?
No, absolutely not. It's always good to reserve your company name because you may choose to embrace social media for your small business in the future.
However, if you are never creating updates, you want to remove those links from your website. It's better to not publish a social media account than to publish an empty one.
Heck, it's reasonable to ask: Is Social Media Worth It For Small Businesses?
I really believe in social media for small businesses. Imagine The Sher Group using social media to find clients in St. Louis by providing free financial services advice that leads to paying customers.
But, if you're going to set it and forget it, best to remove the "set it" part and simply forget it.
2. Taking the social out of social media
This is another giant fail with small businesses on social media — only sharing their own stuff. Or, what some call self-obsessed sharing.
Social media is about being social, not selfish. How many pages could we find where the only updates on a social media page come from that particular company.
Let's find an example; this shouldn't take long.
And the winner is the Synergy Marketing Group facebook page. Below is a photo of their current Facebook updates which all take place last December and are all from their own website.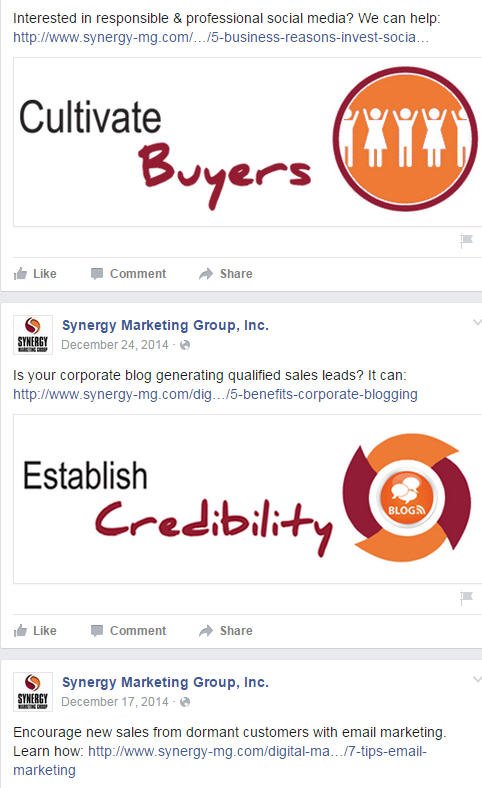 Moral of the story: You're not being social if you're only sharing your own stuff.
In fact, the general rule is that less than 30% of the content that you share should be content from your own website.
Marketers have long come up with social media sharing ratios. I prefer this 5:3:2 rule which provides great resources for sharing other peoples content.
But marketers love formulas and there are many more social media sharing ratios. There is this 30/60/10 rule for social media sharing. Or, for those that prefer a descending ratio, we have the 10:4:1 rule or even this 20-to-1 rule which takes selflessness to a new extreme.
Are you seeing a common theme in all these ratios?
The majority of the social media content that you share will not come from your own website.
If you're not following these general ratios, you might as well stop wasting your time. Your efforts are no better than someone stranded on an island shouting to no one.
3. Not Paying to Play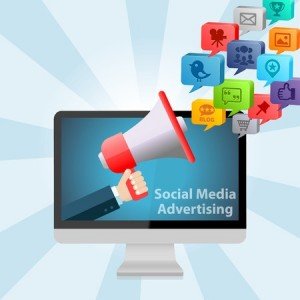 We all assume that the beauty of marketing your small business on social media networks such as Facebook, LinkedIn, Twitter and the like is that it's free.
And sure, it's free to sign up. But, when you really want to grow garner an audience for your small business social media page, you've got to pay to play.
Let me ask you a question: What do you think when you visit someone's Facebook page and they have about 7 likes? In all likelihood, you'll go elsewhere, right? Nobody else likes it so why should you?
Of course, you (or one of your employees) can slave away for 3 months straight building up those likes to have a bit of social media integrity. But, wouldn't those 3 months be better spent elsewhere?
Think about this. You want people to click from your Facebook post over to your website–that's the goal. Now, if you currently have no followers, nobody will visit your Facebook post and nobody will click over to your website. Thus, your goal will remain un-achieved.
Here is an example of a Facebook ad that appears in my stream with some regularity. I am not easily hooked but this one worked for me: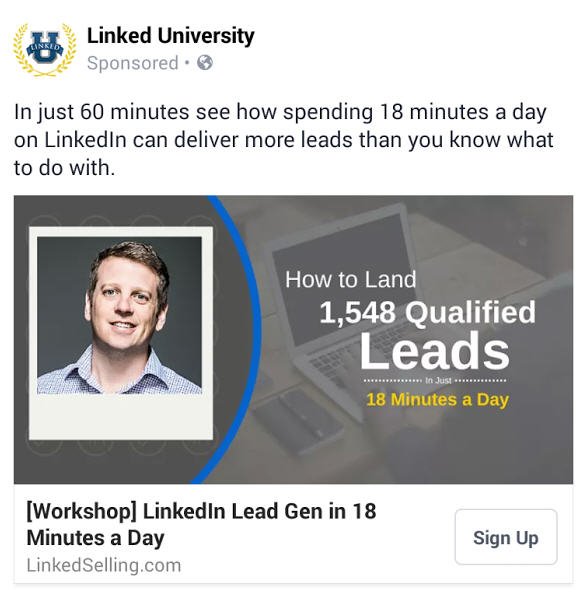 As a small business starting out on social media, you need to pay to play. And you don't have to spend your child's tuition money and switch them over to a public school. You can spend just $5 per day and get results.
Should you stop advertising on social media once you build up an audience?
In the old days, you could. In the old days, your Facebook posts appeared for nearly all of your followers. Then, around 2012, businesses began asking Why Aren't My Facebook Fans Seeing My Posts Anymore? And the answer was that Facebook decided to stop giving away free advertising.
Now, even once you have a substantial amount of followers (Likes!), only about 12-16% of your followers will see your Facebook posts in their feed. So, if you have 1,000 followers, only 140 of them will see your Facebook posts.
Facebook advertising does work for many companies and is something that you should still consider even after you have a respectable amount of followers. You just need to do it right: Here are 11 Examples of Facebook Ads That Actually Work (And Why).
When it comes to spending money on social media, the first question a small business owner often asks is: "How much is that gonna cost me?" in a rather exhausted tone. This is not a successful mindset.
Instead, let me tell you something and then ask you a question: "I know a place where 100% of your customers are. We can go there now. Would you like to go?"
Of course you do. It's an opportunity you don't want to miss.
4. One Size Doesn't Fit All
For those small businesses that have a social media strategy, it often goes like this:
Step 1: Create blog post.
Step 2: Upload to all social media outlets.
Step 3: Hope the visitors start rolling in.
You'll be lucky if this 3-step process brings you 3 visitors. It's what nearly all small businesses do because it's the fastest. But it doesn't work.
You need to tailor your message to the medium.
Let me show you a great example of this. In the previous section, I quoted an article from Jon Loomer, a recognized expert in advanced Facebook and social media marketing. His article had a Tweetable message that you see below:

This is a "click to Tweet" message which can be incorporated into your blog posts. And do you know what I did? I clicked to Tweet. Jon tailored his content to be easily Tweetable and he got my share.
But this would not work as well on Facebook or Pinterest. Why? Well, participants in these social media sites prefer photos to text.
So, here is a question: If I copy and paste a link from your website to The SEO System Facebook page, will it automatically include an awe-inspiring photo and great description. If you answered no, you need to implement the Open Graph protocol. WordPress users can do this easily with the WordPress SEO plugin.
By default, most OGP solutions will just draw one photo from your post and use that as the main photo. However, to succeed where others fail, you can create special photos for social media that really draw eyes.
Like this one from Neil Patel: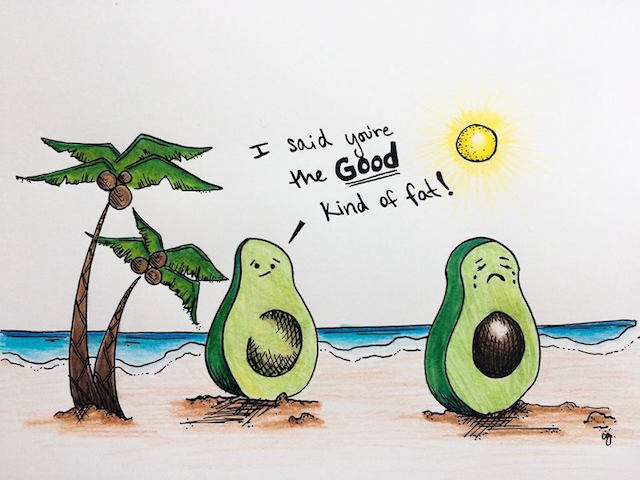 That's much more appealing than a textual update that says: "Learn why avocados are good for you."
So, before you think social media just doesn't work, make sure that you're working social media by tailing your message to the particular medium.
5. Buying Followers
There are two ways to "buy" followers: One is legit and the other is not.
The legit method, that we find in step # 3 above, is to advertise on the various social media outlets. This enables you to attract the followers that you want. You can choose from a plethora of different criteria: age, gender, business, interests, etc. The bottom line: You can get your word out to the exact customer that you want.
The other method is illegitimate.
The illegitimate method consists of buying "X" amount of followers from a particular individual or site. One of the most popular sites to do this is fiverr.com. Here is a particular ad: "I will add 2000 USA Twitter followers for $5."
While this might provide a quick gain in your numerical social media reputation, the long term effects for your small business can be bad.
Most people report simply losing those followers (usually they are not even real people) after a certain amount of time. Others get warnings or have their accounts entirely shut down. For example, as we read in this article, if Facebook does a manual check, there is a 99% chance that your site will be shut down.
But the worse thing about using these paid resources is that you lose a true picture of what's going on with your social media accounts. You become metric-less — none of the data that you're seeing is accurate and you have no way to really judge your social media ROI.
I know…it's tempting. You can spend $5 to get 1000 new likes or you can spend $300 on Facebook advertising to get the same amount of likes.
Perhaps a happy medium is in order.
Neil Patel talks about how he uses genuine Facebook advertising to target "users in English-speaking countries in Asia". Doing this, he gets fans for pennies. Read more here.
6. No Post-Click Plan
Any successful online marketer will tell you that the money is in the list.
Do you ever wonder why prominent websites are always trying to get you to download their latest PDF or sign-in to watch a particular video? None of these actions actually have to require an email or a sign-in. A PDF, or a video for that matter, can just as easily be placed on a free web page.
Here is an example of a call-to-action to watch a video. The language is clear, the call to action evident, and there is a promise of fun things to come!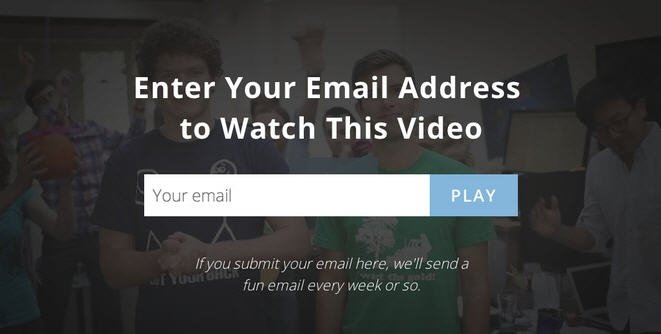 These websites know that the money is in the list.
It's all about CRM now-a-days and, as you probably know, that acronym means customer relationship management. How are you going to manage a customer if you don't know who they are and have no way to contact them?
This does not mean that you bombard them with sales material after you get their information. It means that you continue to provide customers with valuable information that establish you as a credible source for information that the customer needs.
And then of course, when the time is right and you have the product that solves a customers' problems, let them know about it. By this point, you will have already built the trust needed for the customer to make their decision.
So, what is your post-click plan? Do you have a call-to-action to acquire customer information? If not, you're wasting your time and money.
Need some inspiration? Check out these 10 Great Examples of Facebook Call to Actions for your small business.
7. Compelling-less Content
Let's face it. We're not all Shakespeares or Gillian Flynns (she wrote Gone Girl-love that book!) and the content that we put out there can sometimes be less than inspirational.
But, as with a bad book, content that is not compelling does not sell on social media.
But think about this: To get the social media click, you need only a great title and, usually, a great photo. In fact, posts with photos get 53% more likes and "posts with less than 80 characters or less get 66% more engagement."
That's right–shorter is sweeter.
But, what most people do is…nothing.
They simply copy and paste their link to the social media sites and that's it. The result? Compelling-less content.
If you struggle in the creativity department, there are many tools at your disposal to auto-foster ingenuity.
Here's a great page with free tools for creating articles and titles.
I will try this Tweak your BIZ title generator with the topic of "small business social media". Here are 8 sample titles that it gives me:
Apply These 9 Secret Techniques To Improve Small Business Social Media
Believing These 9 Myths About Small Business Social Media Keeps You From Growing
Don't Waste Time! 9 Facts Until You Reach Your Small Business Social Media
How 9 Things Will Change The Way You Approach Small Business Social Media
Small Business Social Media Awards: 9 Reasons Why They Don't Work & What You Can Do About It
Small Business Social Media Doesn't Have To Be Hard. Read These 9 Tips
Small Business Social Media Is Your Worst Enemy. 9 Ways To Defeat It
Small Business Social Media On A Budget: 9 Tips From The Great Depression
Now, I haven't fully decided on a title for this article yet but my idea was "10 Reasons Small Businesses Fail at Social Media". However, these 8 suggestions from Tweak your Biz give me other ideas and I might just want to use one of them.
Now, for photos. They are the real attention grabbers. Sometimes it pays to be a little juicy with your images.
For example, I was writing about a post about how to check for duplicate content across the web and wanted to come up with a compelling photo for the article. I figured that a large percentage of the readers will be young, male, IT professionals so I went with this more provocative image: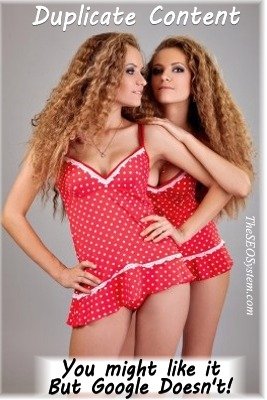 If that ideal image is not available, or you can't locate your inner graphic designer, there are some tools to assist you. A good place to begin is 15 Resources to Create Images for Social Media and the new tool from Buffer called Pablo (they must be referring to Picasso, not Escobar).
Here is a quick image that I just created with Pablo: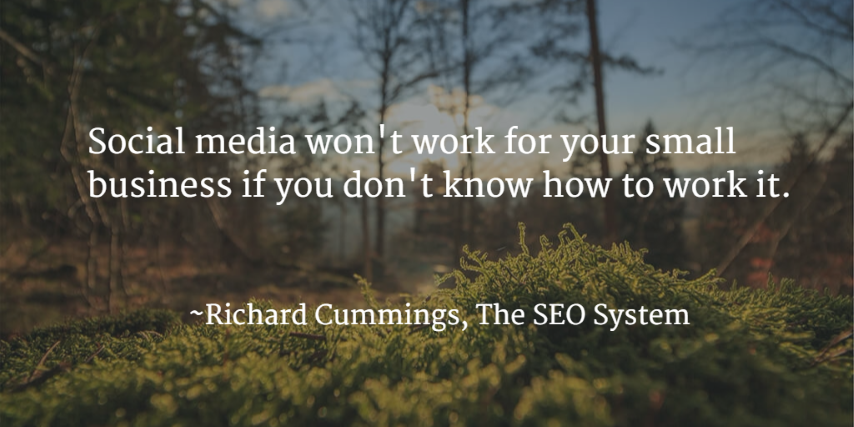 Moral of the story: Want the click? Be compelling!
8. Creating a social omnipresence
"Oh my gosh, we have to have an Instagram account," a colleague recently said to me.
"Really," I said. "Why?"
"Because Instagram is the hot new thing. Our business has to be on it."
Is this true? Absolutely not! Your business does not have to be on every social platform. You do not need to create a omnipresence.
Socrates once said: "He who dwells everywhere, nowhere dwells." The point being is that you cannot be everywhere and maintain your identity.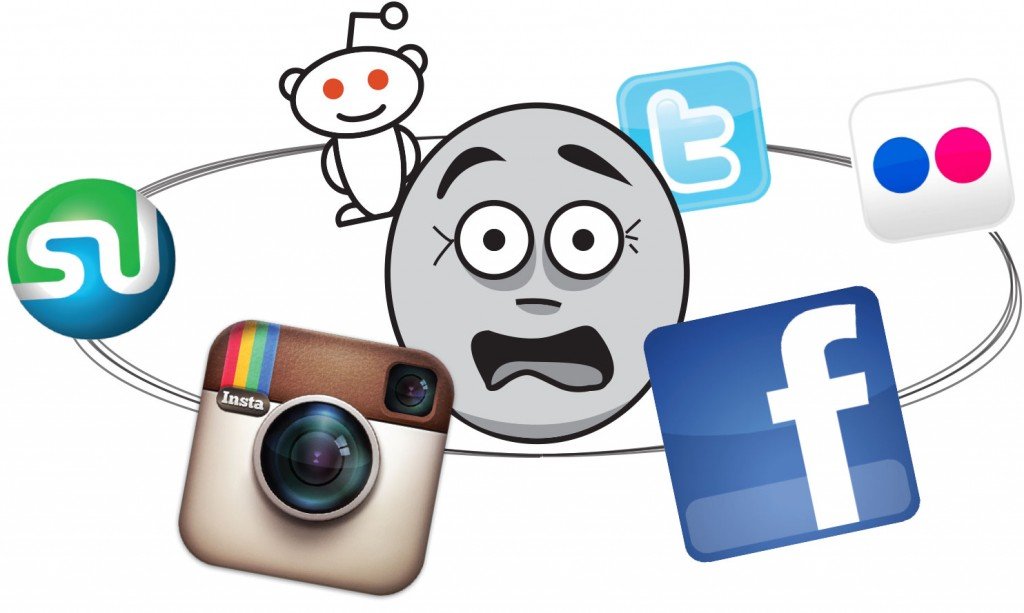 In fact, your small business should only be on a social media platform when (1) You have a sufficient amount of time to do it right and (2) You see the potential benefits.
If you don't have the time, know-how (or desire to learn the know-how), it's just not worth it. You'll end up committing mistakes #1 and #2 above–an incomplete page or a self-serving page filled with one-time company updates.
Here is how you get sucked in. You read an article such as 10 Reasons Your Brand Needs To Be On Instagram and are immediately enticed by lines such as "It's still early enough to establish a presence and dominate your niche". Before you even have time to ask yourself "Wait, is this a good idea?", you're already on Instagram creating your account.
Now, you have yet another social media account that will produce nothing.
Instead, you should narrow rather than expand your social media accounts and focus your energies on what works.
I'm often asked: "What social networks should my small business definitely be on?"
For most B2Bs (business-to-business), I recommend Facebook and LinkedIn as absolutes. I used to include Google+ in there but here are Five Reasons Why Google+ Died and why I no longer consider it a must. Then, time-permitting, I would also suggest Twitter.
However, if your organization lends itself to photo-based story telling, you should then consider Pinterest or Instagram. These are often more appropriate for B2C (business-to-consumer) companies.
Whatever your choice, the one thing that you do not want to do is spread yourself to thin — the only thing that you'll receive from a social media omnipresence is a headache and a lot of wasted time.
9. Automating your way to failure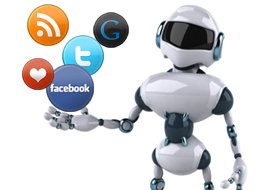 With the rise of social media, we have seen a plethora of social media tools hit the market. Two of the biggies are Buffer and HootSuite but you will find many write-ups such as The 39 Social Media Tools I'll Use Today and 44 Social Media Tools Recommended by the Pros.
Ok, so from those two articles, we are exposed to 83 tools that are supposed to be able to help our small business on social media.
Let's say your small business is on 3 social media networks. Remember, your small business DOES NOT need a social media omnipresence. These articles are recommending that I use 83 tools to manage 3 social networks?
I say (and so should you): "Thanks, but no thanks."
To be fair, some of these recommendations review the basics. For instance, you want to have a way for visitors to easily share the articles from your website to social media AND a one-click follow button for each of your social media sites. However, there is some growing evidence that Removing Social Sharing Buttons Increases Conversions
But, when I hear people use the term social media automation, I think of the tools that supposedly allow you to manage your social media platforms more easily.
So, what (if any), social media tools should your small business be using?
My answer is one of these 3: (1) Don't use any tool — go straight to the social media network and work there. (2) Buffer or (3) HootSuite.
Why do I say this?
When you use these social media tools, you risk committing social media faux pas #2 above: Taking the social out of social media.
As a small business, you really only need social media tools to do one thing: Schedule posts, which you can do with both Buffer and Hootsuite. (See how they compare in this Social Media Smackdown: Hootsuite vs. Buffer.)
The main reasons that it is beneficial to schedule social media updates is so that you can post at the optimal time and easily manage multiple postings.
Remember, the social media content that you will be posting will primarily be from other, interesting sources…not your own company (refer to #2 above if you've already forgotten). By using Buffer or Hootsuite, you can quickly schedule social media posts as you come across interesting content for your readers.
All the other tools are unnecessary for small business. They are meant for large online marketing companies who manage multiple social media accounts for multiple companies.
And social media tools come with risk. The primary risk is that you schedule a bunch of posts through the tool and forget to interact on social media.
This is what I call automating your way to failure…Don't do it!
10. Not being Mobilicious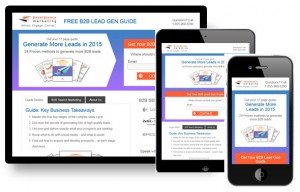 A client recently contacted me to evaluate their Facebook ad campaign that was performing far below expectations.
Their goal was to build up their client base through Facebook advertising. They had a somewhat decent ad with a moderate CTR but an alarmingly small number of sign-ups.
I had an idea what the problem was before even having a look. It's the same problem that many small businesses experience on social media platforms: They had not optimized for mobile. Or, in my vernacular, they were not being mobilicious!
The use of mobile today is astounding. Did you know 83% of the total Facebook users today access it through a mobile device?
Facebook continues to dominate the global social media landscape, claiming 1.366 billion active users in January 2015. Crucially, 1.133 billion of the platform's global users – 83% of the total – now access the service through mobile devices.Simon Kemp
You can read more interesting stats in Simon's article Digital, Social & Mobile Worldwide in 2015. But one thing is certain: If you're social promotions are not optimized for mobile, they will fail.
Such was the case with this particular client. I took one look at the stats which told me 79% of the ads were served to mobile users and that 87% of the click-thrus were from phones and tablets.
Next step? Check out the landing page on a phone. And, yes, you guessed it, the sign-up form was way at the bottom with no compelling call-to-action visible on the screen. More proof came from Google Analytics, which reported an atrocious on-page time.
People quick-click. If you don't get them immediately, they're gone.
So, what did we do?
We optimized for mobile, made the ad slightly more compelling with a great teaser, and sign-ups increased by 35%.
You just have to be mobilicious…are you?
Bonus Video: 10 Quick Ways to Improve Your Small Business Social Media ROI
Prefer to consume your web content in the form of video? I have repurposed this web content for a video you may enjoy:

Director of SEO, Social Media, and Web Content Development
at
The SEO System
Richard Cummings has been practicing online marketing for many years and has setup and optimized hundreds of WordPress sites.He founded The SEO System to provide SEO, social media, and online marketing services and software to businesses.

Latest posts by Richard Cummings (see all)
Small businesses consistently fail at social media. True or False?