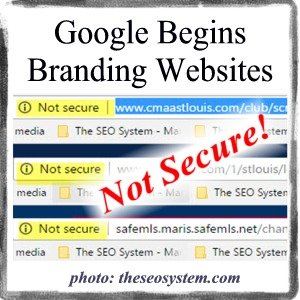 Since my article long ago exposing the 10 Facts & Myths of Secure (HTTPS) websites and my more recent Definitive HTTPS/SSL WordPress Upgrade Guide, Google has now provided increased incentive for those of you who have not yet upgraded your website to HTTPS — they will brand you as "Not Secure"!
The Google official announcement states that:  "Beginning in January 2017 (Chrome 56), we'll mark HTTP pages that collect passwords or credit cards as non-secure, as part of a long-term plan to mark all HTTP sites as non-secure."
Important Post Update – August 2018: Google Chrome now labels all http sites as 'not secure'…not just pages with forms on them.
What will this marking of pages as non-secure look like?
According to Google, it will look like this:
The New Google "Not Secure" Message:  Live Examples
So, has Google effectively begun this "branding" process?  You bet they have.
Here is how you can see the new Google "Not Secure" message on websites.  First, you need to make sure that your version of Chrome is 56 or higher.  (Remember, this policy is only seen by users of Chrome…but they now have a desktop marketshare over 57%.)
To check and/or update your Chrome version, visit your Chrome settings as you see in the photo below:
When you click "About Google Chrome", you should see your Google Chrome version and, if you are not updated, Chrome will begin the update process for you.
Once updated, you can now see the new Google "Not Secure" error message when you visit a site like the one in the photo below:
To see numerous examples of this message, simply do a Google search for "country club login".   Country clubs do not seem to have embraced the HTTPS concept.
What Should You Do About the Not Secure Google Message
You must update your website to be a secure HTTPS Website.  Though it seems like a Herculean task when you read about it on the Internet, you can actually update your site to HTTPS rather quickly.
View my Quick (3 Hour) HTTPS/SSL WordPress Upgrade to get started.

Director of SEO, Social Media, and Web Content Development
at
The SEO System
Richard Cummings has been practicing online marketing for many years and has setup and optimized hundreds of WordPress sites.He founded The SEO System to provide SEO, social media, and online marketing services and software to businesses.

Latest posts by Richard Cummings (see all)