If you've recently logged into Google AdWords to get keyword data, you may notice that the "Average Monthly Searches" column is now not nearly as useful.
The Average Monthly Search column in AdWords may now show something like the photo below:
This data is far less specific than it used to be.
Previously, all AdWords customers received the exact estimated amount of searches per month.
In the past, you may search for a keyword and be told that it has 18,265 searches per month.  Now, that number would probably be 10K – 100K.
Is this now even actionable information?
It may be 10,100 or 99,999.
Of course, you likely base your promotional efforts in direct proportion to the returns that you would receive.
If you know a #1 placement on Google will get you 99,999 new eyeballs (and about 29.6% of the clicks), your efforts may be far greater than for 10,100.
So what gives?  What are they doing with Google AdWords?
They are apparently differentiating the "high" vs "low" spenders.  Here is the official note from CassieH at Google: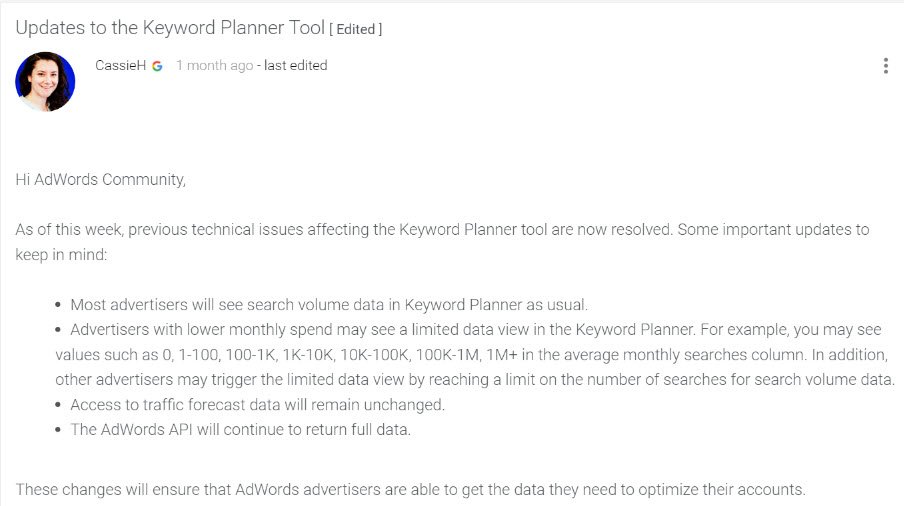 My favorite line in this memo is the last:  "These changes will ensure that AdWords advertisers are able to get the data they need to optimize their accounts."
So, by reducing the amount of data I am able to see, Google is suggesting that I will be better able to "optimize my account"?
When Google make these obviously illogical declarations, people do not hide their sentiments.  Here are just some of the responses from that same page:

And my personal favorite:
Search Engine Land wrote a post saying that "Google says bots are the main target of Keyword Planner changes".  They suggest that the move "was clearly aimed at non-advertisers using the tool for research (SEOs and others) and third parties querying on a heavy basis via the API."
So, if you were previously using the AdWords tool for keyword research, where can you now go?  Here are some keyword research tool alternatives:
Keyword Discovery, WordStream, Spy Fu Keyword Research, UberSuggest, SEO Book (free registration required), Keyword Tool, SERPs Suggest, Keyword Finder, SEOChat Google Suggest Tool, Soovle (great looking tool!), Auto-Suggest Tool (free but just 3 searches a day)
These tools should be useful for the foreseeable future. However, several of them draw their data from the AdWords tools and may decrease in value over time.
Use them while you can!
---
Article Comments: What do you think of this new AdWords setup? Are you frustrated by the lack Average Monthly Searches data now available or do you like these changes? Why/Why not? Sound off in the comments section below. I respond to all comments that come in.
Cheers, Richard
---

Director of SEO, Social Media, and Web Content Development
at
The SEO System
Richard Cummings has been practicing online marketing for many years and has setup and optimized hundreds of WordPress sites.He founded The SEO System to provide SEO, social media, and online marketing services and software to businesses.

Latest posts by Richard Cummings (see all)