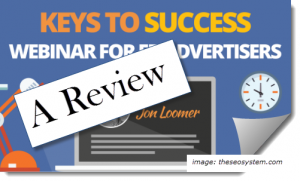 I just "completed" Jon Loomer's Facebook Keys to Success Webinar and will provide you with a quick review of it here.
Why do I use the word "completed" in quotes?  Well, as you'll see below, it's long and I did not quite make it through the entire video.  That is not to say that the content is not engaging, though I do offer some suggestions below; the content is engaging but I was specifically interested in particular sections and so I focused on those.
One of the particular sections that I was interested in was Facebook Ad targeting.  And coincidentally, as quick proof that his methods do work, I signed up for the webinar via a Facebook targeted ad.
If you are not currently on his target list, you can sign-up directly for the webinar here on his website.
I have broken this review down into the 6 things that I really enjoyed about the webinar and the 4 things that could perhaps be improved.
Six Things That I Enjoyed About Jon Loomer's Facebook Keys to Success Webinar
It's very honest.
If you have ever attended an informational webinar, you may have noticed that they put the "big-sell" on throughout, either directly or in the form of "just hold on to the end and you'll see an unbelievable offer".
These types of webinars are usually not too informational and very pushy.
Jon's is nothing like that.  It's genuine and, though he does pitch a product that he sells at the end, this does not even last for 30 seconds.  The entire video content is selfless sharing of very valuable information.
You Can Jump Around From Section to Section.
After signing for the webinar, you will receive several emails.


Now, because of Jon's forthright approach, I did not get worried like "Oh, this person is going to spam me every second."  The email that you want to pay attention to is the one called "Access to Replays".
The beauty of Jon's approach is that you can actually watch the webinar right away — you don't have to wait for the date that you signed up.  It's available immediately in these replays and, presumably, the only real content that is going to change is the Q&A at the end, which is of one of my criticisms…see below.
It's Worth It.
In the beginning of this video, Jon shares his initial experiences with Facebook.
Back in 2007, he worked with the NBA as they were developing some special software for Facebook.  And, while 2007 does not seem that long ago, it is in Facebook years — they only started being open to the public in 2006.
So, when it comes to Facebook Advertising, Jon knows more than you and he freely  shares lots his vast Facebook knowledge in this video which makes it well worth it!
It's straightforward.
Jon lays out the webinar in a very clear, concise manner AND in order of importance.
I like the way he jumped right in with Facebook targeting essentially suggesting that If you don't get this part right, nothing else matters.
It dispels mystiques.
You will here many people tell you that "
Facebook Advertising does not work
".   This is one of the biggest misconceptions of all which should be restated "
Facebook Advertising does not work…for people who don't know how to work it."
Jon addresses this straight away and lists all of the reasons, for instance, why advertising to people who like your Facebook page may not work at all, as we see in Jon's slide below:
The reality of many Facebook business pages is that the people who liked your pages are not engaging and may not even be interested in your product or service.  In fact, they may not even be from your country or speak your language.  How does this happen?  Check out this fantastic video on Facebook fraud.
Many see videos such as this and stop all of their Facebook Advertising entirely.  However, Jon acknowledges that this exists and suggests that you just need to work around it by developing highly targeted custom audiences.
Jon Gives Examples…And Leads by Example
I've always viewed the Internet itself as the best online marketing university.  One of the best ways that you can see Jon Loomer's knowledge in action is simply to follow the trail of Jon's ads.
While he addresses this in his Facebook webinar, illustrating how he uses an advertising funnel to provide great content and share knowledge, he also leads by example — all you need to do is follow the breadcrumbs.
For instance, I was doing some research on Facebook retargeting.  I came across Jon's site and read several articles.  What happened next?  Boom — a Facebook Ad to view the webinar.
And now, I have not only become a customer of Jon's but I am promoting his content on my site.
Four Things That I Would Improve About Jon Loomer's Facebook Keys to Success Webinar
This a list of things that Jon may want to improve in the presentation, though they are by no means a reason not to view the webinar — I fully recommend it!
No Video Examples
There were many instances in the video where Jon shows a screenshot from Facebook.  Ideally, I would have liked to see a live or taped video of the process.
For example, here is how I added the Facebook pixel to my website and here is how you setup/view your custom audience after your pixel is setup.

Very Few Graphics
The webinar is a standard PowerPoint presentation with text-heavy slides.  I would have preferred more graphics featured throughout the presentation.
Q&A Not Interactive
If there is one thing to definitely improve in the video, it would be the Q&A portion.
After I viewed the Facebook targeting portion of the webinar that I wanted, I fast-forwarded to the Q&A, where I thought I would find live people asking questions about the issues they are facing with Facebook advertising.
As it turns out, this portion just contains Jon reading questions that have come in during the live webinar.  I would have preferred to hear the actual customers interacting with Jon.
Or, perhaps, a listing of the questions with hyperlinks to them?  This would allow people to go directly to questions that address their needs.
Reduce Length.
As I mentioned above, I love that fact that you can view a replay and jump around from section to section.  I watched Jon's March 13th, 2017 version which comes in at a length of nearly two hours.
To Jon's credit, he spends nearly 45 minutes on the Q&A section addressing questions from the audience.
However, 2 hours is long so you might want to split up your viewings.
Or, perhaps, Jon might want to make sections "clickable" so that we go right to the area we want?  Jon?
Conclusion: What Are You Waiting For? View Jon Loomer's Facebook Keys to Success Webinar Now
I think I've summarized my view of this webinar very clearly:  Unless you are a certified Facebook Advertising expert, Jon Loomer's Facebook Keys to Success Webinar is an absolute must watch.

Director of SEO, Social Media, and Web Content Development
at
The SEO System
Richard Cummings has been practicing online marketing for many years and has setup and optimized hundreds of WordPress sites.He founded The SEO System to provide SEO, social media, and online marketing services and software to businesses.

Latest posts by Richard Cummings (see all)