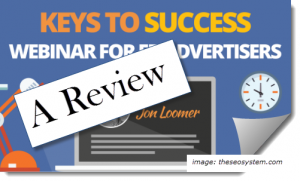 I just "completed" Jon Loomer's Facebook Keys to Success Webinar and will provide you with a quick review of it here.
Why do I use the word "completed" in quotes?  Well, as you'll see below, it's long and I did not quite make it through the entire video.  That is not to say that the content is not engaging, though I do offer some suggestions below; the content is engaging but I was specifically interested in particular sections and so I focused on those.
One of the particular sections that I was interested in was Facebook Ad targeting.  And coincidentally, as quick proof that his methods do work, I signed up for the webinar via a Facebook targeted ad.